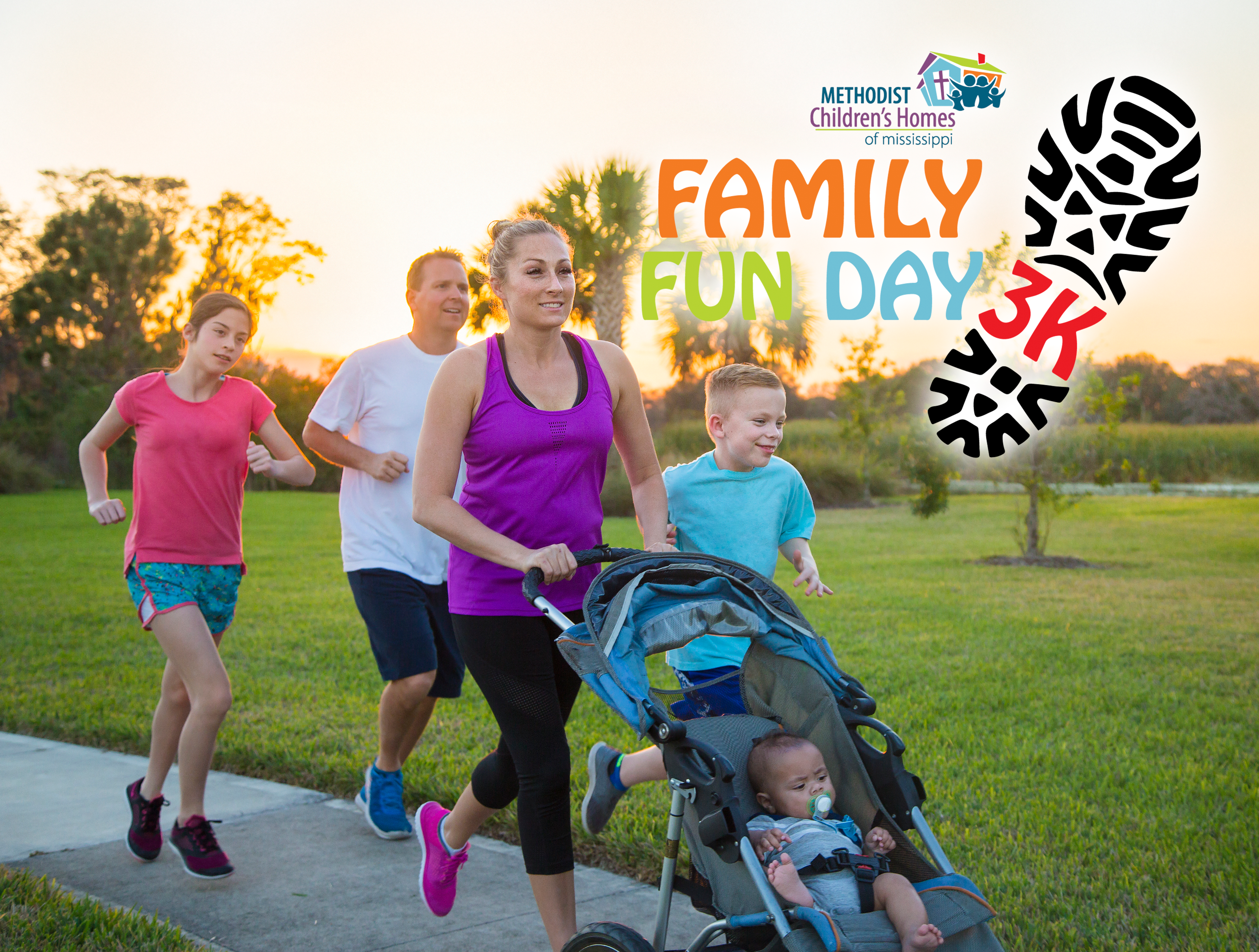 Family Fun Day 3K
Saturday, June 3
"We hear so many people saying they'd like to try a 5-K, but are intimated," says interim CEO Gretchen Cook.  "That's over three miles.  And most 5-Ks are runs.  This event is a family oriented, three K WALK," she emphasized.
The Methodist Children's Home Fun Day 3-K will be held at LeFleur's Bluff Playground in Riverside Park on Saturday, June 3.  This popular park is situated between the Mississippi Children's Museum and the Museum of Natural Science. Access is from Lakeland Drive.   
In addition to being a walk, and not a run, there are many family-friendly elements added to this event, which is sponsored in part by Parents & Kids Media.
The route is a loop, so if your little ones get too tired you can easily exit the route.
The entire route is away from public roads. So no worrying about car traffic.
It's ADA complaint and stroller friendly, so even the smallest members of your family can participate.
Its later-than-normal start time of 9:00 am accommodates families with kids.
In addition to the official walk itself, in between the walk and the awards ceremony we will have a free event, an Old-Fashioned Sack Race with prizes for all participants — for kids ten and under. Food trucks and music, along with kids' activities like hula hoops and corn hole, will round out the fun. Plus, the event being held at a magnificent park, nestled between two major museums, will make for the start of a fun day of adventure.
This event by Methodist Children's Homes of Mississippi is designed to create a fun day for families while also informing them about mental health issues in children. Parents & Kids is proud to sponsor this family friendly event that supports physical health, mental health and fosters family relationships.
For more information, please contact Jessica Senter at jsenter@mchms.org.
Details
Early Registration (Valid through May 15th)  Includes T-Shirt
Adults (13 & Up): $35, Kids (12 & Under): $15  Includes T-Shirt
For families, over FOUR, a discount will be applied after the first THREE regular registrants.
After May 15th 
Adults (13 & Up): $45, Kids (12 & Under): $20  Includes T-Shirt
Onsite Registration is available with T-Shirt on a first come, first served basis.
Agenda
Post Walk old fashioned Potato Sack Race for kids ten and under; all participants receive a prize.
On-site registration from 8:00 am to 9:00 am
Race Packets available at 9:00 am on race day
Live music 9:30 am to 12:00 pm
Sack Race at conclusion of the 3-K and before age brackets awards ceremony.
Free with registration Raffle (must be present to win) at conclusion of awards ceremony.